cathy2329d Dating Profile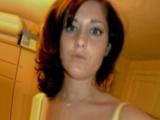 THIS MEMBER IS READY FOR ONLINE HOOKUPS!
Wild life and Wilder times!!
I'm a funny, responsible, light hearted kind of person. I most defintely have a plan for my life in terms of getting my bachelor's degree and pursuing a meaningful well paying career. I really like people who have good self esteem are honest, intelligent, willing to try new things in terms of activities, are willing to have deep conversation, and have a good heart. I'm really into someone who is independent but also willing to make time for me. I admit i'm the ultimate romantic.