herc62 Dating Profile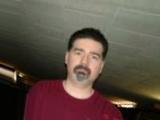 THIS MEMBER IS READY FOR ONLINE HOOKUPS!
Nice guy looking for female who likes to play! I am a basic member so leave some contact info if interested.
Nice guy looking for someone to have fun with. I love sex and would love to satisfy your every need. C'mon ladies let me perform for you. I would love to pleasure every part of your body! Love oral and anal sex! Not getting what I need at home, have a huge sex drive to satisfy. Have a good sense of humor, love to kid around. Don't always need to go out to have fun as long as I have a companion just talking, holding hands or whatever works.